*This article first appeared on the CaFleureBon site, as part of the Fragrant Awakenings series.
 "The 4 circles of love "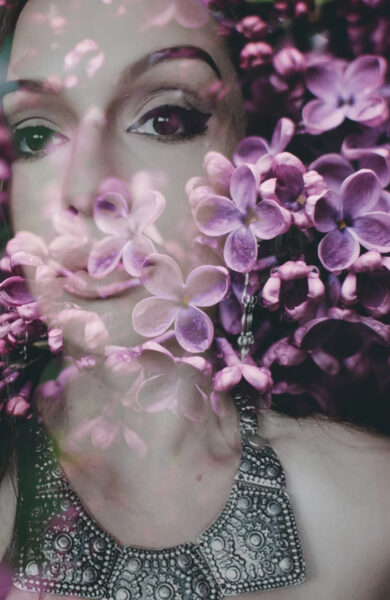 Circle 1 – Limbo
"We don't see things as they are, we see them as we are" Anaïs Nin
I grew up in an industrial and polluted city, near a chemical plant, where fog tasted of ammonia and rain smelled like wet cardboard. I was loved and spoiled by my two *very busy* parents and my two *much older* brothers, surrounded by toy tanks, plastic soldiers and war games, looking like a tomboy and acting accordingly. Romania in the late '80s was going through a gloomy end of the communist era, times ruled by scarcity and the fight for everyday resources, at the opposite spectrum of any artistic pamperings and aristocratic delights.
The door to my grandmother's house, however, was like the portal to a time capsule where everything was different, and I acted, dressed and acknowledged the small universe around me with a different set of antennas. Sica (nickname for Elisabeth) was unlike any of the people I was surrounded with (and she still remains the epitome of raw, unfiltered and unapologetic femininity and everyday glamour). She lived in a small but beautiful old house, in a tiny city close to the mountains. There, the air felt crisp and alive, the fog rolled down from the mountains filled with the aroma of dark, wet forests and april had the cruelest, most beautiful light, filtered in purple by the canopy of lilacs in the backyard.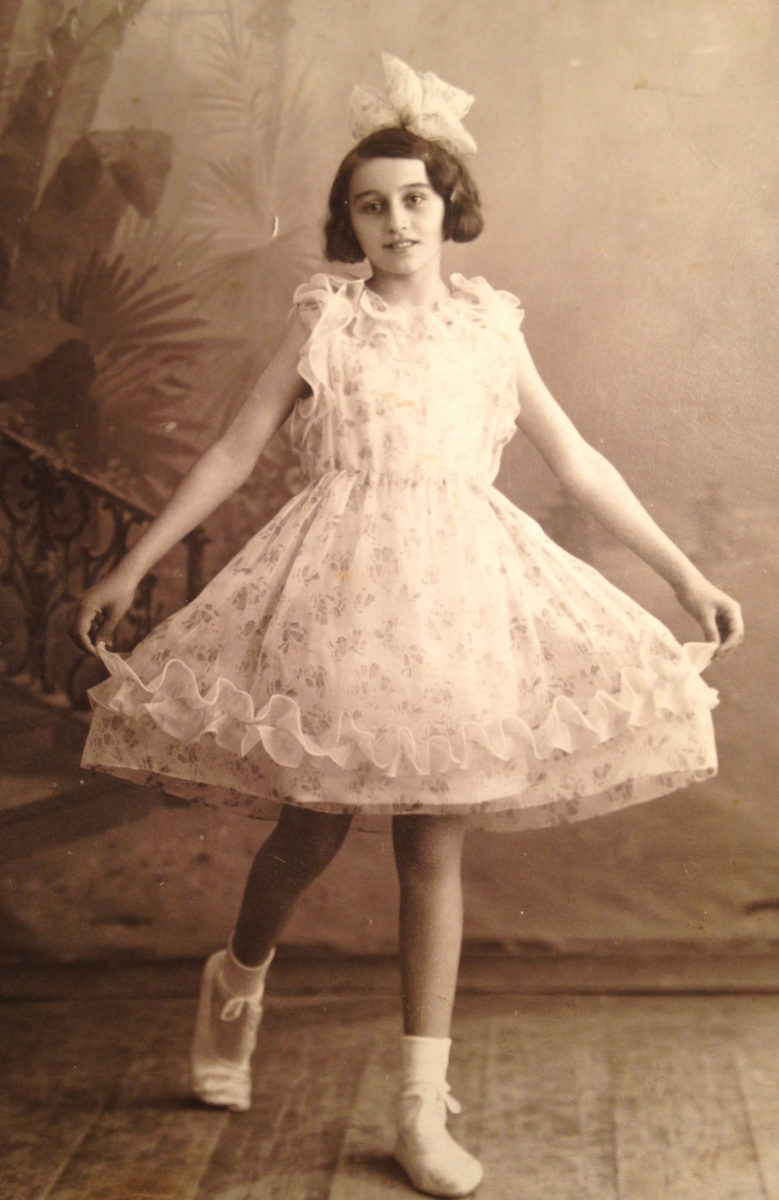 Any cosmetics, let alone perfume, were hard to come by commodities and even the most basic items, soaps, for example, were cherished as small treasures and placed in closets, between the "good" clothes, to scent them. You can imagine then, the sense of wonder, delicious secrecy and danger (as I was forbidden to ever talk about it with my friends back home) when we received small packages with gifts from an aunt who lived in Paris. Amongst lipsticks, soaps and deodorants, there were also these mysterious tiny vials of perfume samples. My grandmother never wore them outside the house, but we had a small ritual in the evening, before going to sleep – I would choose one perfume from the pile of little samples, and put the tiniest, most microscopic amount on our wrists. The perfumes were mixing with her scent, the stories she read to me, her voice, the light filtered through the thick curtains, in a synesthetic veil that opened doors to a new universe, a world filled with color, glamour and mysteries. I still vividly remember that uncharted feeling hovering like an iridescent filter over my reality, the perfect balance between the delicious taste of adventure layered upon the soft cocoon of safety and love only a grandmother can weave around a little girl.
Circle 2 – Lust
"I remember one morning getting up at dawn. There was such a sense of possibility. You know, that feeling. And I… I remember thinking to myself: So this is the beginning of happiness, this is where it starts. And of course, there will always be more…never occurred to me it wasn't the beginning. It was happiness. It was the moment, right then." Michael Cunningham  "The Hours"
Ever since the first sniff, Magie Noire by Lancome has always been the ONE. I remember the exact moment I first smelled it, asked my grandmother what the French name meant, and felt this overwhelming wave of happiness and relief upon finding out. It smelled like coming home, an imaginary home, one I have never seen but always felt gut-wrenching nostalgic for. (If I were to believe in past lives, the explanation would be simple, but I don't – and it's not). Many years passed between that moment and the day I could afford to have the first bottle in my hands, but the sense of wonder never dissipated.  With a stubborn, childish kind of love, I do not look for faults between batches, I do not dissect its notes, I do not compare it with others and I do not complain about the reformulations. It now still represents, as it did in the old days, the projection/feeling/promise of a perfect, happy, complete self: always pursued, never attained.
Circle 3 – Gluttony
 "I want to lead the Victorian life, surrounded by exquisite clutter." Freddie Mercury
Years passed, the communist regime fell, and the newly-found freedoms and democracy of the wild '90s came with many temptations… and little money. I thus began working at an early age for a Romanian, spending my summer holidays toiling to fuel the two passions that made life exciting(and still do): serious hiking equipment for my mountaineering adventures, and fragrance.
Later still I started traveling abroad, had my comfortable corporate job, and—finally— money; my love for perfumes grew exponentially with time, and new loves are now fixed landmarks of my memories: the playful, sweet Dolce Vita by Christian Dior; the meditative and profound Perfume Sacre by Caron; the severe and composed Theorema by Fendi; the alchemical, fine Black Cashmere by Donna Karan; and all the greatest hits of the '80 – Opium, Poison, Obsession, Drakkar Noir, Rive Gauche summoning memories from powerful little vials. I was never one for a huge collection, but my drawer filled with bottles always felt like the olfactory version of Smaug's treasure. And I loved and treasured each and every bottle.
Circle 4 – Heresy
"I made wine from the lilac tree
Put my heart in its recipe
It makes me see what I want to see
And be what I want to be"  *hearing Jeff Buckley's voice*
Background picture Roksolana Zasiadko, via unsplash
Sometimes, bad things come to us as blessings wearing ugly masks. Some medical issues forced me to turn old mirrors back onto myself and take action on postponed or long-muted decisions. Amidst reorganizing and reprioritizing myself and my life, some shallow things got lost, others shifted to new-found depths. Perfumes, gathered in a histrionic and colorful bucket filled with years' worth of memories, had little to nothing new to say to me; I looked at them with love, but as scented skins I've shed along the journey. Some days I wore my beloved Magie Noire, but quite often nothing at all.
So, come spring of 2016, and time flew in a weird pattern –  my usual insomnia topped with the irregular hours my newborn baby chose to sleep made me too tired for any structured distractions or old hobbies. Late-night idle browsing on my phone took me to corners of the Internet I haven't visited before 🙂 This way I found out about the perfume swapping sites and facebook groups and this new (for me) genre of "niche perfumery". The sheer amount of information, passion and resources dedicated to perfume amazed me. I found the written blogs and felt like a hungry kid watching the most vivid, full-bloom, HD details of a candy-made-universe.
I soon found out that my dusty bottles were sought after, and without any remorse, I swapped my old collectibles for new and fascinating morsels of new stories. "Hic sunt leones" was written on old maps, on uncharted territories. I started in deep waters, with hardcore niche (Smolderose from January Scent Project comes to mind- oh, that decant scared and thrilled me to bits!!; discovery kits from Amouage; industrial-strength Montales and Manceras) that sometimes left me desperately gasping for air.  
Without prior smelling any of their perfumes, I researched the house of Frederic Malle. I loved the idea of a house of perfumery which treasured the perfumer as the artist that he is, acknowledging and placing their name on the label of the bottle. As my favorite flower is lilac, without thinking twice, I blind-swapped a bunch of my old vintages for a bottle of En Passant.
Olivia Giacobetti created the ethereal painting of ruffled lilacs after a cold spring rain shower. It's composed in a transparent, water-based pastel technique using delicate strokes and the eye for detail of an old watchmaker. Some might say the flesh of watercolor scents is of a diluted, ghostly nature, but if we are to zoom in, as under the lens of a microscope, we discover a whole universe in a drop of rain. Michel Eugène Chevreul (a french chemist) discovered the rule of simultaneous contrast that states that "if two colors are close together in proximity, each will take on the hue of the complement of the adjacent color. The colors themselves will not change, but we will see them as altered." Standing very close to this perfume, first time breathing it in, it might just come across as static, a multicolored sort of "white noise", like a swarm of pastel bees flying in circles around you. En passant requires you to take a step back, to unfocus your mind in order to fully embrace it and take in the whole picture. It's a mixture of floral notes and green hues in perfect balance, creating a living, breathing, almost Star-Trek-holodeck-quality type of immersion into a more-than-perfect nature scenario.
From the first sniff of the cap, I knew I was hooked. It was different from anything I'd smelled before; I could not put my finger on it then, but it had a new dimension, just like a square suddenly turning into a cube right before my eyes. I felt again the unnamed filter of magic placed over reality that I knew from childhood, but now I had a simple name for this: perfume could be an art form. And I had a masterpiece in my hands. And I wanted more.