#day 1 of testing Musk fragrances: Atelier des Ors, Musc Immortel (Marie Salamagne) a.k.a Flora turns Fauna
Synopsis: "Or I am mad, or else this is a dream."― William Shakespeare
Setting: The twelfth night. A good trickster witch breathed life all over the forest floor and made it alive: the iris, bitter, powdery and vegetal has now the sly wicked motions of a fox in hiding in the moonlit grassy dryness; the immortelle flower replaced her petals with gleaming orange rays of light, whilst the patchouli and vetiver just stod and watched the shenanigans, binging on white chocolate.
Notes: Top: grapefruit, clary sage, and iris; middle: patchouli, Haitian vetiver, and cypriol oil or nagarmotha; base: ambrette (musk mallow), musk, and immortelle
Singing: Mediaeval Baebes – "Veni Veni Bella"
#day 2 of testing Musk fragrances: Atelier Materi Bois d'Ambrette (Marie Hugentobler) a.k.a. the ambrette memory box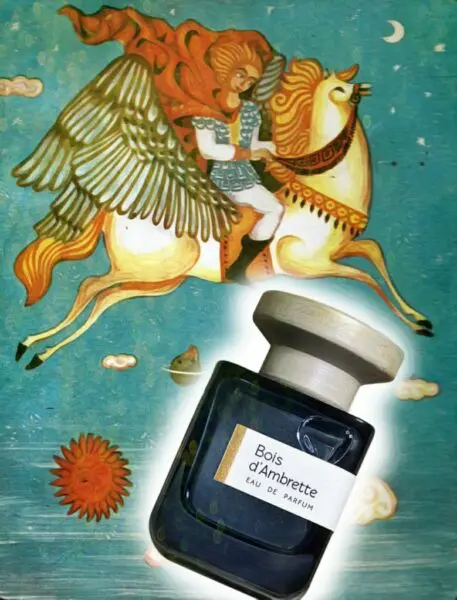 Synopsis: "Be quiet, my son, for you shall have youth everlasting and life without end." Petre Ispirescu, Romanian tale
Setting: This is a bottled-up smell captured from the Vale of Tears. Fells like a taut spring of longing has suddenly sprung wide, with painful reverb, and outcome memories, pouring: honeyed slices of mandarin floating in ginger tea; plans hung out to dry; the light of summer, filtered through the white crochet curtains; the freshly made bed, where you would crawl, young skin warming up the cold ivory sheets.
Notes: Mandarin, Ginger Heart: Ambrette, Angelica, Amyris Base: Musks, Sandalwood, Ambroxan.
Singing: Life & death – Balanescu quartet
#day 3 of testing Musk fragrances: Bon Parfumeur 903 (Serge de Oliveira) a.k.a. the safe word
Synopsis: "Imperious, choleric, irascible, extreme in everything, with a dissolute imagination the like of which has never been seen, atheistic to the point of fanaticism, there you have me in a nutshell, and kill me again or take me as I am, for I shall not change."― Marquis De Sade
Setting: An olfactive debauchery with flashes of darkness, spices and semi-tamed beasts growls, but so posh you can blush only from behind a gold-embellished art deco fan.
Notes: Top notes are Coriander, Pepper and Saffron; middle notes are Musk, Cashmere Wood and Patchouli; base notes are Musk, Sandalwood and Agarwood (Oud).
Singing: Nothing's gonna hurt you baby, Cigarettes after sex
#day 4 of testing Musk fragrances: Christian Provenzano Musc Poudré a.k.a chiaroscuro powder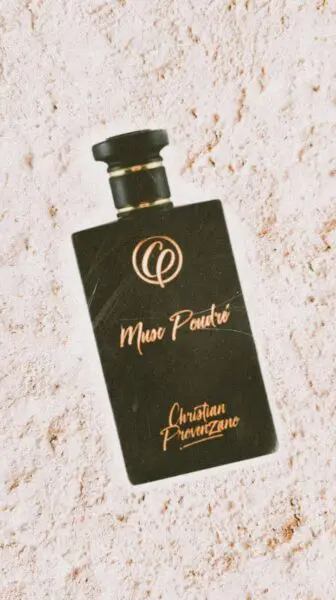 Synopsis: "I love you as one loves certain obscure things / secretly, between the shadow and the soul." Pablo Neruda
Setting: A Proustian Madeleine, slowly turned into the finest milled powder by the sands of time. This is sheer memory dust that keeps the imprint of your silences, down to the last unspoken sighs in its texture. An ambery – musk experience, with orris, rose, violet, softwoods shavings, and the most deliciously mischievous raspberry breath interwoven between its particles.
Notes: Top notes are Bergamot, Geranium, and Raspberry; middle notes are Bulgarian Rose, Orris, Moroccan Rose, Magnolia, and Violet; base notes are Patchouli, White Woods, Tonka Bean, Benzoin, Vanilla, Amber, and Musk.
Singing: Comptine d'un autre été
#day 5 of testing Musk fragrances: Jeroboam Parfums Boha (Vanina Muracciole) a.k.a Flower Deep dream
Synopsis: "Mrs. Dalloway said she would buy the flowers herself"
Setting: A white flower-centered potion that is both universally beautiful and intricately deep. A flower bouquet blooming in surprising and multidimensional ways, adding enveloping amber accords, and framing the base with oakmoss and sandalwood.
Notes: Bergamot, Green almond; Heart notes: Violet leaf, Gardenia, Egyptian jasmine, Orange blossom; Base notes: Amberwood, Musk, Oakmoss, Australian sandalwood
Singing: Morning passages, Philip Glass
#day 6 of testing Musk fragrances: Jovoy's Liturgie des Heures (Jacques Flori) a.k.a. Eternal Incense
Synopsis: "How peaceful life would be without Love, Adso. How Safe. How Tranquil. And how Dull." – Umberto Eco
Setting: A wall of dark green ivy is guarding the entrance to the monastery. Passing the cold stone wall, you enter the hall and slowly begin your ascent of the labyrinthine library staircase.
Notes: Cypress and Green Notes; middle notes are Incense, Olibanum, Myrhh and French labdanum; base note is Musk.
Singing: Cohen, You want it darker
#day 7 of testing Musk fragrances: Jul et Mad Paris, Stairway to heaven (Cécile Zarokian) a.k.a. Major Tom to Ground Control
Synopsis: "Look up at the stars and you're gone."― Chuck Palahniuk
Setting: The glass chapel on the main deck. An avalanche, on top of a crystal mountain, looping in slow motion on the blue screens. Washing your hands with water so cold that you feel your phalanges turn from bone to icicles. Abstract, cold, mineral, airy, cleanest of clean, holiest of holy, the musk of more human than human. Cryogenated musk, bottled.
Singing: Depeche Mode, Clean
Notes: Head: Aldehydes, Bergamot, Sweet Orange; Heart: Bulgarian Rose, Orris Butter, Red Berries, Heliotrope; Bottom: 8 White Musks, Vanilla, Patchouli, Ambroxan, Cashmeran, Incense (oliban), Dynamon (gunpowder note)
#day 8 of testing Musk fragrances: Parfum d'Empire Musk Tonkin (Marc-Antoine Corticchiato) a.k.a. New Skin For The Old Ceremony
Synopsis:
"The stars were trembling with her, as a scent
went searching through the bedroom where she lay.
The curtain stirred — a sign, but what was meant?
Her soft eyes sought the sign, turning that way,
but still she clung to him — that dark old man —
untouched by what the night of nights can do."
Abishag*, Rainer Maria Rilke
Setting: This is amplified human skin – in a room full of indolic flowers. Resinous, ambery, sensual, old as time yet boiling in the last cell of the blood, ever-new.
*Abishag was a beautiful Shunammite maiden chosen to be a helper and servant to King David in his old age. Among Abishag's duties was to lie next to David and pass along her body heat and vigor as "they put covers on him, but he could not get warm".
Notes: Muscenone, Cistus, Hyraceum, Tuberose, Frankincense, Myrth, Sandalwood, Rose
Singing: Ennio Morricone – Volti e fantasmi
#day 9 of testing Musk fragrances: Rania J. Fragrances Musc Moschus (Rania Jouaneh) a.k.a Rusalka's breath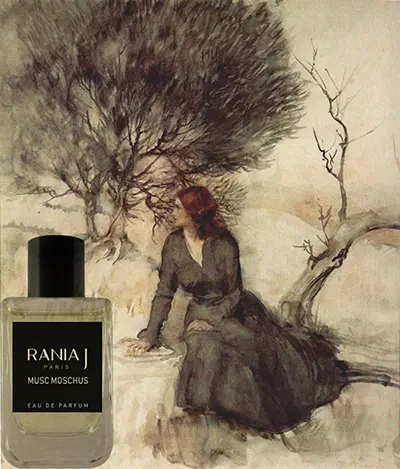 Setting: Deep in the belly of the mountain, at the birthplace of the river that streams from underneath the rocks, we are in her lair. Mysterious and wild, with auburn hair long to her heels, her untamed beauty is said to torment the minds of the mortals who are foolish enough to cross her path. She would set traps near the river beds, where young men, lured by her voice would tread, their feet entangled with her hair, just like fish caught in unforgiving nests. Legends talk of her skin, becoming slippery when touched, not allowing any victim to cling onto her body, to reach the surface. She would wait out their last breath, laughing with her berry-stained lips, before she would give them the kiss of death.
Synopsis: Olfactive lure-trap for unsuspecting victims: dense and dark as a precious berry wine, sensual, sweet, and deeply seductive.
Notes: Blackcurrant, Sandalwood, Iris, Musk, Vanilla
Singing: Dvořák: Rusalka
#day 10 of testing Musk fragrances: Roberto Greco Porter Sa Peau – L'Objet parfumant (Rodrigo Flores-Roux) a.k.a. wearing your skin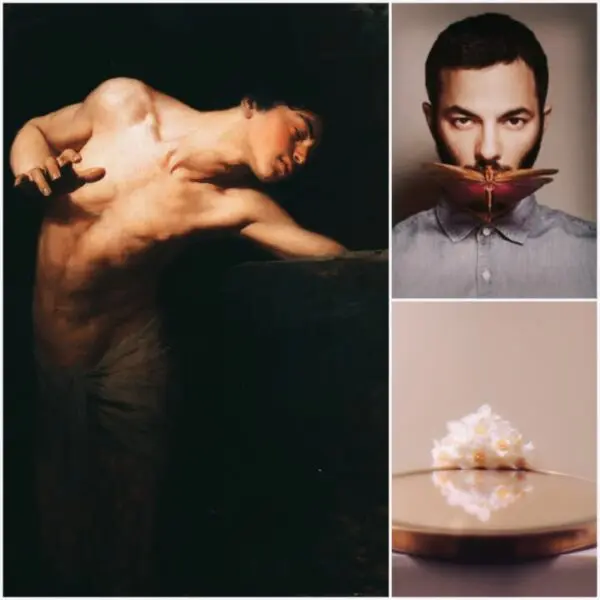 Synopsis: Id, Ego, and Superego sitting in a tree, K.I.S.S.I.N.G.
Setting: If self-confidence could be bottled up, this would probably be it. Elevated skin, soapy aldehydic, musky, both green and carnal, boiling hot and detachedly unbothered and cool, salty and slightly unnerving, with retro décor but modern flair, Porter sa Peau is an artistic potion that serves as a daily affirmation (turned to self-celebration) ritual, inviting you to JUST DO IT! (shouts my inner Shia LaBeouf, in the role of a green screen-lit (de)motivational angel*look for the meme*). Or just wear the skin you are in. Or flip it, switch it and reverse it. Results may vary.
Notes: Top notes are Aldehydes, Hawthorn, Angelica and Clary Sage; middle notes are Narcissus, Ylang-Ylang, Jasmine, Bulgarian Rose, Orris and Bran; base notes are Musk, Leather, Patchouli, Oakmoss, Hyrax, Ambergris, Akigalawood, Tolu Balsam, White Sandalwood and Vetiver.
Singing: Sevdaliza, Human
#day 11 of testing Musk fragrances: Roja Dove Musk Aoud a.k.a. Sailing to Byzantium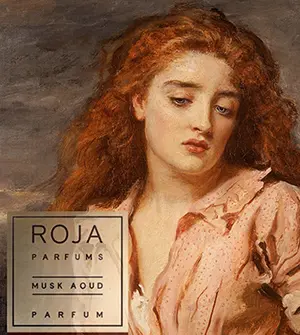 Synopsis:
"But such a form as Grecian goldsmiths make
Of hammered gold and gold enamelling
To keep a drowsy Emperor awake;
Or set upon a golden bough to sing
To lords and ladies of Byzantium
Of what is past, or passing, or to come." – Yeats
Setting: In the emperor's throne room, watching the golden mechanical birds sing their neverending love poem. Tiny springs balance in motion- the jewel-sized brass cobs, more intricate as the insides of a clock, start to rotate, tiny flowers bloom with light floral touches from miniature barrels, the softly whispered steam raised from the teacups, mixed in with the crumbs of rainbowed sweets, overflowing silver trays. Light steps, the rustle of silk, tassels brazing the ancient wooden floors. The smell of spices, more precious than gold, carried in the belly of the ships, on endless bottomless seas. His hand drew aside the curtain of her hair, placing his cold lips on that narrow border of immortality, right behind her ear.
Notes: Top notes are Bergamot and Lemon; middle notes are Rose, Jasmine and Ylang-Ylang; base notes are Musk, Agarwood (Oud), Leather, Ambrette (Musk Mallow), Birch, Precious Woods, Tonka Bean, Vanilla, Nutmeg, Sandalwood and Oakmoss.
Singing: Lamento della Ninfa – Claudio Monteverdi
#day 12 of testing Musk fragrances: Sylvaine Delacourte Paris Smeraldo (Irene Farmachidi) a.k.a. Greensleeves
Synopsis:
"Thy petticoat of slender white
With gold embroidered gorgeously;
Thy petticoat of silk and white
And these I bought gladly." – traditional folk song.
Setting: An apothecary's old and dusty spell book reads: "In order to find the fabled Smeraldo flower, the one made from emeralds, one must brew a potion: add holy ghost root, pick up ripe pears, pick a branch o' faery tree, mix them well with pine cones and needles gathered from the crossroad to the forest. On the first full moon, drop a knife full of mastic in. Add the dust from a rose petal, have a black cat jump over it. Let it macerate, put ointment on the four corners of the map, watch "La Citta Di Smeraldo" appear.
Notes: Top notes are Angelica, Yuzu, Pear and Vetiver; middle notes are Hawthorn, Mastic or Lentisque and Pine needles; base notes are Lime, Rose and Cedar.
Singing: Loreena McKennitt All Souls Night
#day 13 of testing Musk fragrances: The Different Company Pure Eve (Celine Ellena) a.k.a. Mariana in the South
Synopsis:
"And on the liquid mirror glow'd
The clear perfection of her face."
Is this the form," she made her moan,"
That won his praises night and morn?"
And "Ah," she said, "but I wake alone,
I sleep forgotten, I wake forlorn." Tennyson
Setting: Flowy, silky, angelic, with the texture of a cloud, lit orange by the dawn. Callison cookies, soft fluffy musks, cloudy puffy aldehydes, vanilla, and mimosa make for a seemingly innocent meta skin.
Notes: Top note is Aldehydes; middle notes are Mimosa, Flax and White Rose; base notes are Candied Almond, Musk, Sweet Notes, Dried Fruits and Cedar.
Singing: Air – La Femme D'Argent
#day 14 of testing Musk fragrances: Tiziana Terenzi Dioniso a.k.a. As above, so below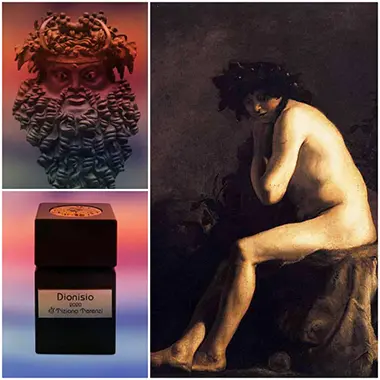 Synopsis:
"I bring ye wine from above,
From the vats of the storied sun;
For every one of yer love,
And life for every one.
Ye shall dance on hill and level;
Ye shall sing in hollow and height
In the festal mystical revel,
The rapurous Bacchanal rite" – A. Crowley
Setting: The sacred rites of Dionysus have been transformed, in time, into theatre performances. His worshippers took off their masks from their faces, turned from shamans to actors; the participants became the audience; the holy altar morphed into the stage. Still, the spell remains. Summoning his divine presence, drinking the sacred wine, one still carries the choice of becoming beast or god, while wearing his mask. Adrenalized, and both bestial and otherworldly, Dioniso from Tiziana Terenzi will dance on your skin for days. Not for those who are afraid to wear (inner or outer) masks.
Notes: Top: Ambergris, Musk & Pheromone Middle: Ambergris, Tahitian Vanilla, Jasmine & Lily of the valley Base: Ambergris, Oudh, Musk, Madagascan Vanilla & pheromone.
Singing: Noyalain (Burn) – Lisa Gerrard
Disclamer: Samples received from Jovoy Paris, opinions are my own.
The sample was included in the limited edition Jovoy Paris x Cafleurebon collaboration: the limited-edition 'Make It Musk' Sample Box.
Read my full review of Jeroboam Boha here