Zoologist Bat (old formulation) review
Sinopsis:"The basic human need to be watched was once satisfied by God. Now, the same functionality can be replicated with data-mining algorithms." Deus Ex (video game)


The first thing that caught my eyes was by the zoologist's quirky and coherent art direction – a series of black and white sketches, like some sort of tongue-in-cheek animal-world business cards, made in a playful anthropomorphic-goth-inked-cartoonish style. Then, I applauded the brand's ethical message – all the perfumes are cruelty-free, do not contain musk or other animal products. I peeled off another layer, finding it fascinating to see the number of fine details and specialized research behind every perfume: in order to replicate the "olfactory habitat" for each species as accurately as possible, Zoologist worked with specialized biologists for each species and only the most suitable "noses" were scouted for each project. Nothing was left to chance: the behaviors, the appearance of the animals, and all the nuances and the details (sometimes the arid, laboratory kind) were united in an organic synergy, then creatively placed in mirrored contrast with the human species.
A note from the brand "At Zoologist Perfumes, our fascination with animals is boundless. Their habitats, behaviors and looks; their similarities and differences with humans, and even their smells give us a lot to ponder. Their cunning inspires us, their agility resonates with our primal instincts, and their cuteness makes us giggle. Our line of perfumes captures the idiosyncrasies of the animal kingdom and transforms them into scents that are unusual, beautiful, fun and even shocking. Our scents will reconnect you with the manifold delights of the natural world."
I became a fan of Zoologist when I perceived a deeper layer – the connection made between our primary essence and the most primal of our senses – smell. And the basic questions that follow. How many of the tensed springs that act, in the background, in our reptilian brain, beneath the seemingly smooth surface, are in fact the engine of our entire existence as humans? What was the moment of detachment from the ancestor-monkey?  When did we become the observers? How do we still satisfy the need to be watched? Does that explain social media? What does the zoo stand for? Who is looking at whom?
"Zoologist Bat escorts you on an odyssey through the night. This unique olfactory experience carries you with the fruit bat to a sumptuous feast in a lush tropical jungle, before whisking you down to the recesses of its cavernous home. Sweet figs and soft fruits ensnare you with addictive notes, then beckon you deep with primordial mineral scents that evoke a rugged enclosure redolent with hints of damp soil and vegetal roots. Allow yourself to hang, draped in pitch black, as alluring musk wafts over you with every unfolding of the thousands of leathery wings that surround you."
Top Notes: Banana, Soft fruits, Damp earth
Heart Notes: Fig, Tropical fruits, Mineral notes, Myrrh, Resins, Vegetal roots
Base notes: Furry musks, Leather, Vetiver, Sandalwood, Tonka
The creator of this perfume, Ellen Covey, besides being an award-winning and recognized nose, is a university professor at the Department of Psychology at the University of Washington, and a professional orchid breeder (her own perfume brand is "Olympic orchids"). Last but not least, she is a respected researcher, with a long series of scientific papers published on bats, a true "bat-master" expert in bat psychology, behavior and ecology.
I was eagerly waiting for a perfume made with such attention to detail, by a double specialist – in bats and perfumes. So I was preparing for a masterpiece. The only problem here is the huge inconciliable difference between what enchants the mind and what speaks the senses. Bat does not speak to my senses – it SHOUTS!
I don't particularly like the smell of banana in perfumes (although in Jean Patou's Sira des Indes, I somehow enjoy it). From the beginning, for me, the experience was shadowed by the decaying smell of fermented, crushed fruit. After a while, it transformed into the realistic smell of wet soil, compost, and a wet cave, full of bats. Anyone who has visited a bat-infested cave knows exactly what I'm talking about.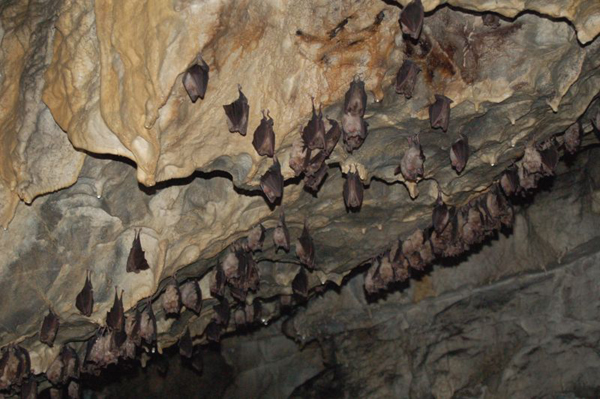 Bat cave in Romania (a place I visited FAR too often in childhood, for a claustrophobic kid)
A whiff of darkness, coming from the underground "belly of the earth" and the coldness of narrow stone corridors that are lost in mazes submerged underwater (the R.E.M phase of a reoccurring nightmare for this claustrophobic here). Although it is earthy-moist-mineral-fermented-fruity-resinous, the perfume somehow manages to keep an airy note, running through its DNA. The only problem is that this breath of air comes from the underground cave mentioned above. Even if my brain says yes, yes, yes! what a delight, what a wonderful and interesting construction, the animal inside me growls dangerously: banana and wet darkness, no, no, no!
So I stare at my little sample, whispering "it's not you, it's ME" and mourn its discontinuation. Although my pulse races to over 100bpm wearing it, I enjoy the thrill of it. Maybe it could be part of an "exposure therapy" for my claustrophobia. Maybe I like bats, after all, its just caves I have a problem with. So I sigh and promise myself I will hunt down a bottle of the discontinued BAT on eBay, as soon as the claustrophobic quarantine will end.
*Later edit: the new BAT will be available SOON* with a new formula and a new perfumer: Prin Lomros
"The story: Mystical, mysterious murmurings glide upon a blanket of inky sky. Shadows smear across the moonlight, their darting journey shrouded in darkness. Bats, the only mammal capable of true flight, are enigmatic and alien.
The formula: a vivid sparkly green maze paved with vetiver, decorated with tart jungle fruit and lots of earthy shadows. "
Top: damp earth accord, fig, guava, passion fruit.
Heart: hay, incense, jasmine, mineral accord.
Base notes: animalic notes, leather, moss, vetiver.
Source: Bloom Perfume facebook page
Till then, listening to the flutter of wings: