Lancome Poeme fragrance review, first published in Cafleurebon
Lancôme Poême, created by Jacques Cavallier-Belletrud
"I have done nothing all summer but wait for myself to be myself again"
Painter Georgia O'Keeffe, in a letter to Russel Vernon Hunter
Remember, when you were still in school, how the beginning of autumn felt? When the rays of light started to fall oblique, reddish, with long shadows, and the air had a subtle but definite change in it, like the wind suddenly knew how to play music in a lower pitch. Childhood and adolescence are those times where we all practice a natural "mindfulness", so present, so aware of sensations, so rooted in the now. The first taste of real-time-self-awareness mixed with nostalgia-happening-as-we-speak came with the first ring of the school bells, on the 15th of September.
I never had new year resolution lists and never began anything important and worth planning-over in January. Autumn has always been the season for beginnings, to-do lists, rebirths, and new skins.
Chewing Juicy Fruits gum, eyes squinted in the afternoon golden light, sound of crispy leaves under my boots, leather jacket, walkman in my pockets, The Verve in my headphones, impersonating a petite but equally aloof version of Richard Ashcroft, strolling the busiest street of my hometown.
More or less, this is how good autumn stories begin for me, for more years than I care to count, with Poeme on my wrists.
The top notes of Poeme are a mouthful of sweet, syrupy, dripping juices. You can have your pick from a basket filled to the brim with colorful and ripe fruits: bergamot, mandarines, plums, peaches and blackcurrants, all mixed in with green notes.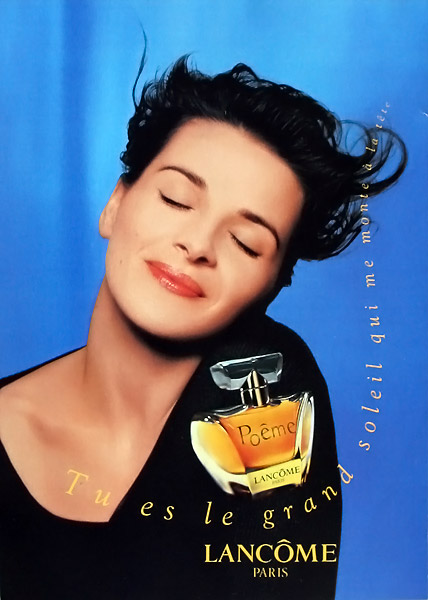 After the sweetness of the fruits settles a bit, we come into the bittersweet and yellow nectar of a bouquet seen through a magnifying lens: an orange blossom flower surrounded by freesia, jasmine, some (uncharacteristically silent) tuberose, rose and mimosa that are all blended beyond recognition in a honeyed whirlwind of yellow and white petals. (For a proper visual interpretation of this flowery phase, please google more images of Georgia O'Keeffe flower paintings: realist and abstract at the same time, uber-feminine, irreverent and sensual)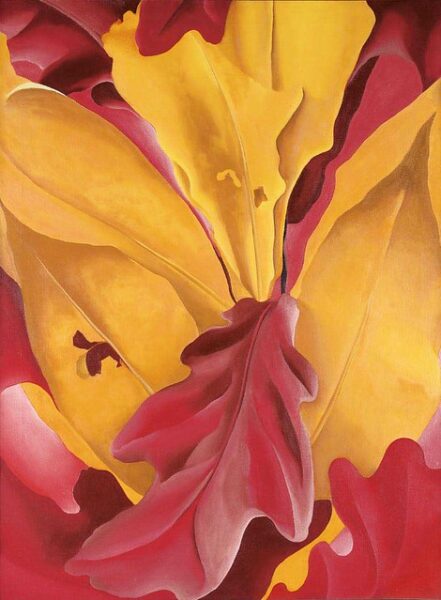 In the dry down, the perfume reminds us that it was born in the 90s and dials up the oriental vibe: the vanilla has the center stage now, surrounded by the usual sidekicks: amber, musk, and tonka.
Back in the old days, Poeme was anecdotally loud – Luca Turin dubbed it to be one of the perfumes that should be banned in restaurants (together with Amarige and Spellbound).
In the current formulation, it's safe to spray with abandon (even if you are going to a fast food place, down the block) – but that's a problem only if you care about projection and longevity – as Poeme has managed to keep its essence to this day: a beautiful, bittersweet honeyed floral that acts can act both like a pat on your back and a kick in the rear.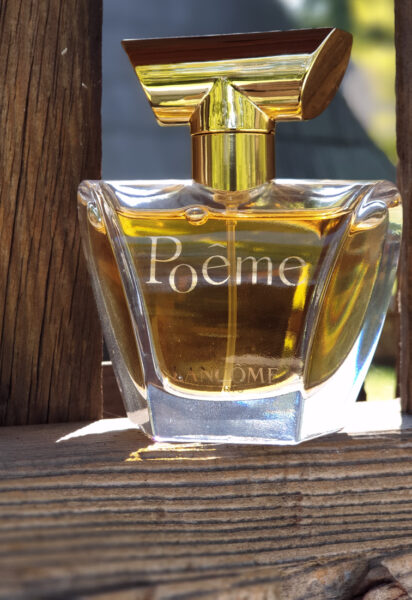 Lancôme Poêmewas created in 1995 and the nose was Jacques Cavallier-Belletrud
Top Notes: Blue Himalayan Poppy, Lychee Blossom
Heart Notes: Orange Blossom, Mimosa, Jasmine
Base Notes: Vanilla, Desert Datura Flower
Read about more Lancome fragrances here