Isabey Paris Prends Moi fragrance review, first published in Cafleurebon
My "catnip" has always been makeup, and I swear I can sense the happy receptors in my brain lighting up like a Christmas tree each time I tear open the foil and swatch a new item on the back of my hand.
Only a makeup addict can understand the ASMR tingle triggered by the *click* of a Chanel Rouge Allure lipstick, feeling the texture of a Caron puff on your cheeks, or the nostalgia for the special metallic heaviness of a Dior blue vintage compact, perfectly fitting in your hand. I must confess that after the last declutter of my vanity drawers (because, as opposed to fragrance, no matter how well you store it, makeup DOES expire) I am striving to be a makeup minimalist. But "I want to lead the Victorian life, surrounded by exquisite clutter."- sighted I, quoting Freddie Mercury.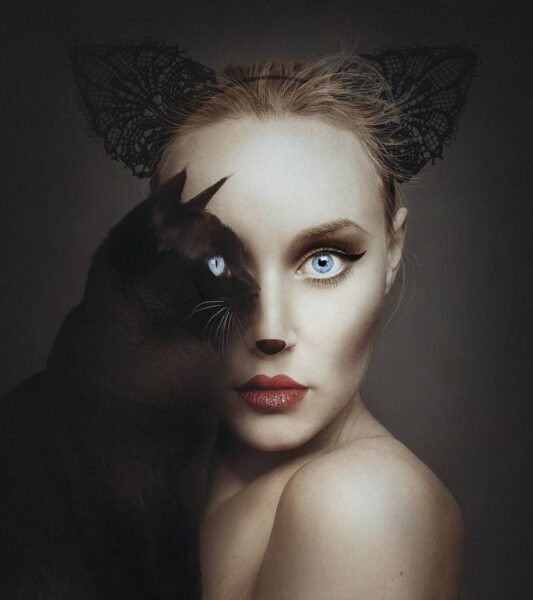 The workaround for periodically getting my "hit" whilst keeping the makeup addiction in check was embarking on the thrilling and neverending quest of finding the perfect makeup scents. Compared to wearing makeup, where I seldom step out of my comfort zone of nude lips & winged eyeliner, when it comes to makeup – inspired – perfume, I am adventurous and I take delight in every side of the olfactive vanity rainbow: from powdery to creamy and from girly, fruity and sweet to the dark, deep and vampy.
Opening a parenthesis, notable mentions in my hall of fame are (so far, and in no particular order): Meteorites and the promised-but-not-quite-delivered resemblance they bear to the iconic Guerlain powder; the almost cult-status Histoires de Parfums Moulin Rouge 1889 for its vintage –almost turned lipstick accord; the sexy and fresh raspberry note of modern fruity lippies sublimated in Juliette has a Gun Lipstick Fever; Frederic Malle Lipstick Rose for the eyelash fluttering a what you see is what you get attitude; Lipstick On by Maison Martin Margiela for when you need a playful wink from a set of over-the-top fake lashes; and last but certainly NOT the last my beloved Terry de Gunzburg Ombre Mercure – that Robert Herrmann brilliantly described as "If Guerlain's L'Heure Bleue had a wild younger sister who's never seen without wearing her Doc Marten knee-high boots".
Enter Isabey Paris Prends-Moi, and I remember, before sampling it, reading the "Red Satin Lipstick" note of the pyramid with my heart rate going up and my nostrils fluttering with pavlovian anticipative joy.
First, let's turn back our time machine to the early 1930s, when the house of Isabey rushed to bring out to the North American market their latest perfumed offering, held in a beautiful and minimalist bottle. An unfortunate misspell on the label of Prends MoiS" (translated as take me) did not help lower the eyebrows of the public in front of the scandalous name, and I am sure a lot of gasps of surprise were heard all over the American continent when reading the daring French label. I giggle and can't help thinking about the infamous Nars Cosmetics makeup line and how shockvertising still works today.
Almost a century later, when recreating and re-imagining the perfume, Luca Maffei said: "I was inspired for this creation by the last moment before the ultimate act of love. The adrenaline, the warmth of the skin, a kiss on the neck, the chills. So I wanted to use bold and sensual raw materials, which represented a veiled eroticism."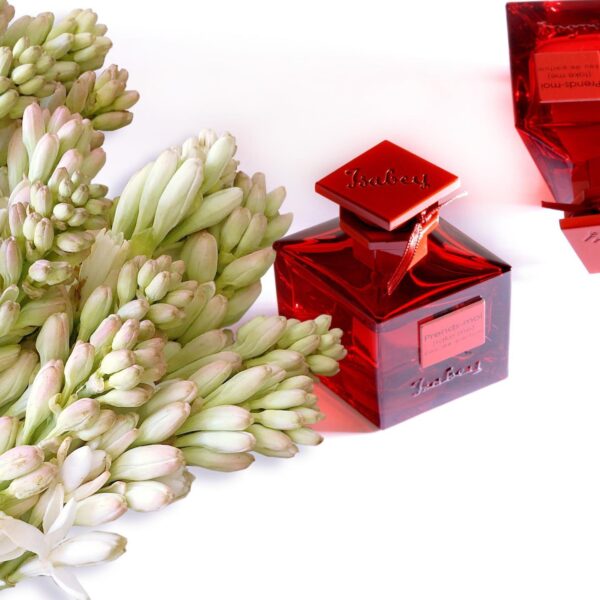 Scintillating, bright, youthful and carefree, Prends-Moi conjured, from the first spray, a "butterflies in the stomach" level of excitement in me. The mixture of spicy pick pepper, the sunny and sweet bergamot, mixed in with the tartness of raspberry bring to my mind the "glossy-glossy" crazy days of the early 2000s: frosted makeup, shiny lips, and the trademark overdose of pink blush. If you remember the L'Oreal Shine Delicieux ads series featuring Laetitia Casta this is exactly where this scent teleported me.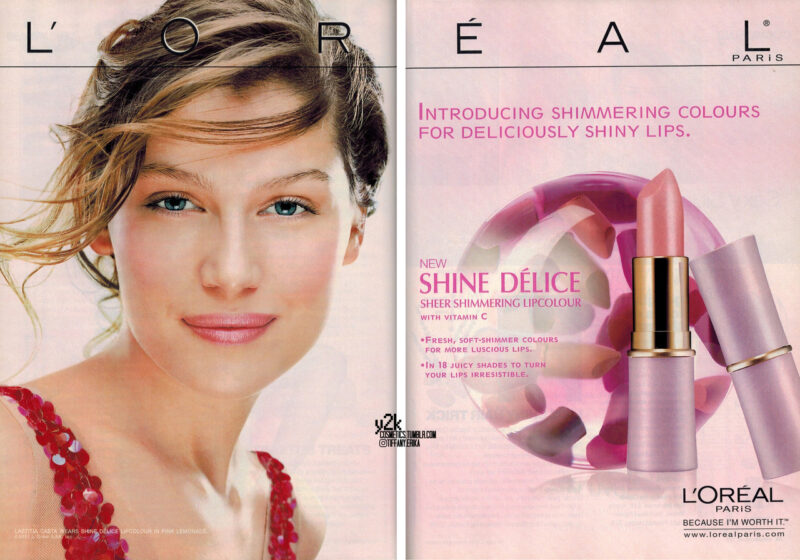 Diving deeper into the perfume's heart, things got more gown up (read as in adult) and sensual.
If you have a moment, google the opening scene of Le Mépris by Jean-Luc Godard (1963) with Brigitte Bardot & Michel Piccoli. When you will hear the violins playing in the background and see Brigitte's shadow slowly moving, well, that's on the level of delicious lazy intimacy and sensuousness the perfume manages to capture.
Same as with Godard's cinematography, where we often see contrasting vibrant and bold hues paired together, to play off each other – in the heart of the fragrance we have a red rose playing the innocent game, bouncing off a ridiculously sensual tuberose. The charged tension and interplay between the two main floral actors is beautifully highlighted by the rich textured backdrop, where we have the intimate warmth of cardamom interwoven with a lipsticky breath of iris and violet.
A whiff of powdery cocoa note brings to mind the scent of one of my favorite bronzers and the end-of-summer ritualistic gesture of emphasizing the deep bronze of my arms with an added layer of shimmer, sprinkling in just the right amount of pampering up for a summer evening excitement to the scented ritual. In the blue hour" of the perfume, bathed in the long ambery shadows of the night, the camera moves, with long, sinuous frames to a whispered and sensual sandalwood end.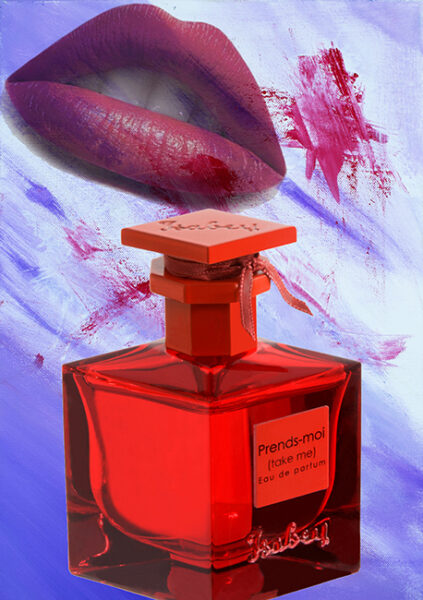 "Take me" is a perfume that showcases Luca Maffei's magician skill of taking a heavy note (in this case tuberose) and making it "float", imponderable, showcasing its natural beauty using unexpected nuances and abstract associations. In conclusion, if makeup is "catnip" for you too, go hunt a sample (I almost said swatch) of Prends- Moi for its delicious rush of almost tactile delightful facets: a glossy fruity texture, a satiny creamy lipstick note that never feels waxy or stale, and a powdery cloud with coca undertones. If you could care less about makeup, but love sensual florals with a twist, do give it a try for its contemporary take on tuberose.
Read more on the history of the brand, and also my review of Fleur Nocturne
Top : Bergamot, Pink Pepper, Raspberry
Heart : Rose Absolut, Red Satin Lipstick Tuberose, Cardamon, Iris
Base : Cocoa Absolut, Creamy Sandalwood, Amber
Disclosure: Sample kindly provided by Isabey Paris, opinions are my own