L'eau par Kenzo (Oliver Cresp) perfume review was first published in Cafleurebon.
"Water lilies load all over
The blue lake amid the woods,
That imparts, while in white circles
Startling, to a boat its moods.
And along the strands I'm passing
Listening, -waiting, in unrest,
That she from the reeds may issue
And fall, gently, on my breast"
Mihai Eminescu, Romanian poet
The Lake (English version by Dimitrie Cuclin)
Many years ago, a lady from human resources told me (quite exasperated) that I'm the only "true INTJ*" she has ever met. In the Myer – Briggs personality tests I.N.T.J. stands for introvert-logical-intuitive – a type of personality that is found very rarely, in just under 0.5% of the female population tested.
If there was such a test in the world of perfumes, I think that L'eau par Kenzo- silent, introverted, contemplative, without too many sentimental outbursts, deconstructing nature and recomposing it from simple touches – would perfectly fit in the INTJ drawer.
2. L'eau par Kenzo perfume ad from 1996
I remember the sample that was a gift-with-purchase with a glossy magazine (that I used to buy only for the occasional perfume samples it held) in the year the perfume launched. The commercial was so wonderfully in tune with what I felt. I kept sniffing the sample, thinking, this is like an… implosion of happiness! The best kind of happy! Almost 10 years later, in one of my favorite movies of all times I found the perfect quote that sums up what I'm feeling while wearing it: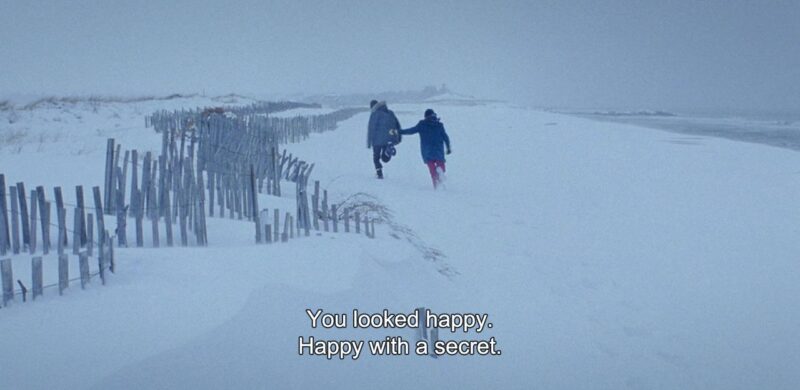 I think of it as my own, personal "sensory deprivation tank" perfume. I close the lid to reality and I find myself, half asleep, chewing on some minty gum, the curve of my spine following the wooden curve of the boat, eyes watering from the sharp weightless blue of the sky. Suspended floating on my imaginary forest lake, surrounded by impossibly perfect waterlilies, ripe fluffy peaches, frozen in time, still and endless like in an eternal summer vacation time-loop.
L'eau par Kenzo was launched by the house of Kenzo in 1996 and the nose was Oliver Cresp.
Top Notes: Mint, Mandarin, Pink pepper
Heart Notes: Lotus, Peach
Base notes: White musk, Cedarwood
If you like L'eau par Kenzo, also try Hermes Les Jardin de Monsieur Li