I had the pleasure of being invited again to a Masque Milano online launch for the new "dream" scent, a tea party attended by 100 people connecting from all around the world. I have received a kit holding five mysterious vials, a bag of Earl Grey's from Tea Forte, and some yummy candy and was instructed not to open, smell or taste anything until the meeting.
"For the fragrance to be numbered IV.I (i.e. the first Scene of ACT IV), we couldn't help but being inspired by Alice's Adventures in Wonderland, as this is the quintessential oneiric novel, full of apparently nonsensical characters and scenes, yet orchestrated into the cleverest narration by Lewis Carrol's shrewd mind. We are irresistibly attracted by characters such as the White Rabbit and the Hatter, and find that the many olfactive hints, as well as the many references to habits and popular culture of the Victorian age, scattered in the chapters of Carrol's masterpiece, create the perfect setting for a fragrant concoction." – Alessandro and Riccardo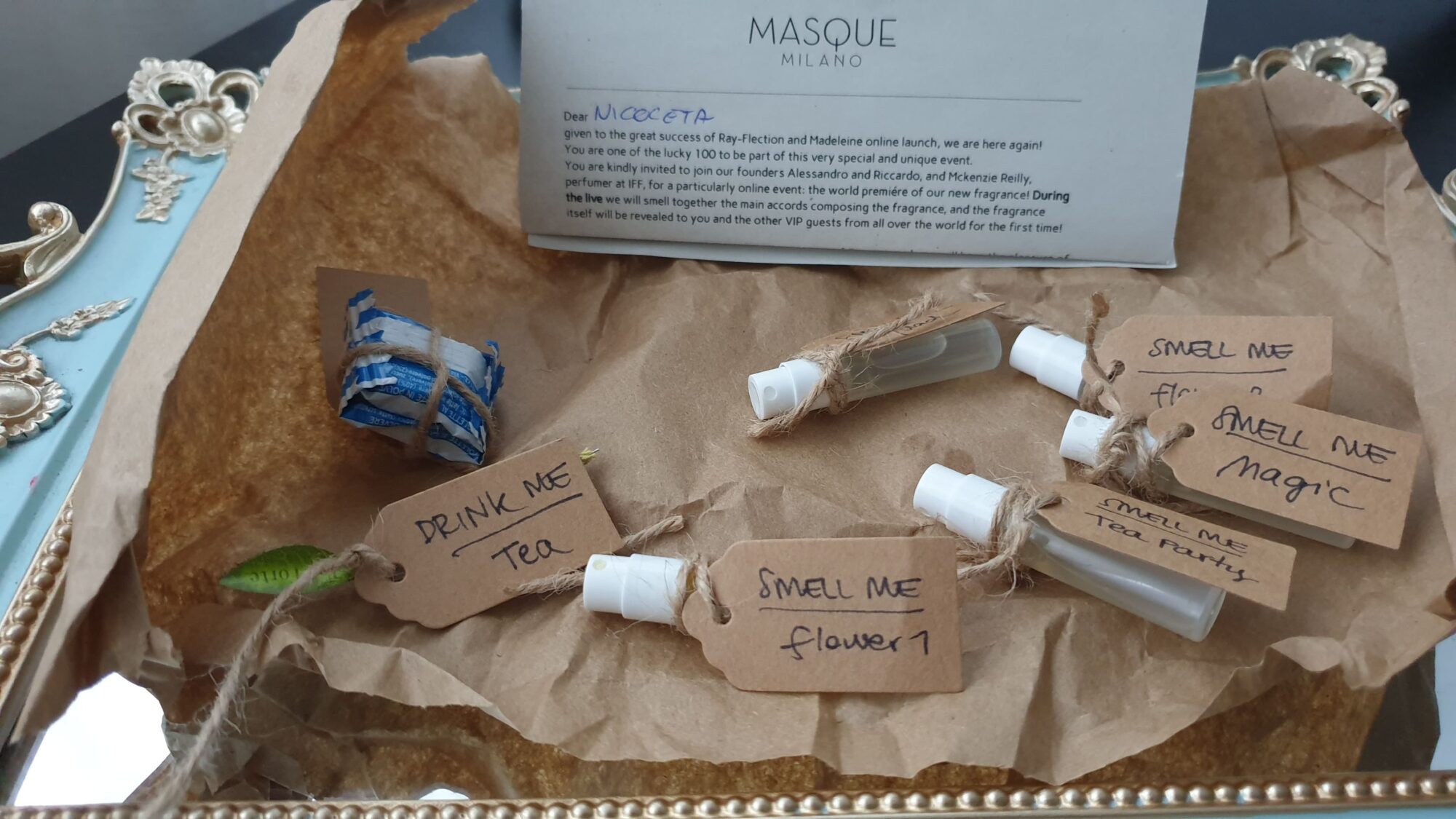 The samples labeled Mad, Flower 1, Flower 2, Tea Party, and Magic made me feel like I was gazing at a miniature inventory filled with magic objects, just waiting to be used in the perfect setting, in an olfactive interactive quest. This gave me the perfect excuse to bring into conversation (and to replay) one of my favorite games of all time – Alice Madness Returns (that just turned 10 years since launch and aged quite well)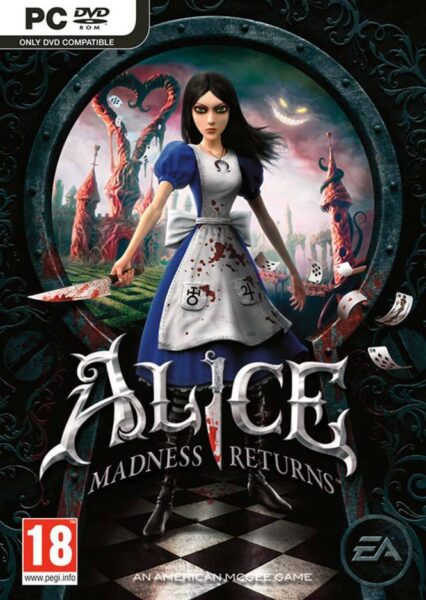 Alice Madness Returns is a psychological horror hack and slash action-adventure platform video game that gave new facets and interactivity to the old classical story. And provided a hefty dose of good ol' gore too 😀
Properly poised and British stiff upper lipped, with a serious underlayer of creepy, in this game you explore the twisted world of Wonderland dissolving into insanity. Armed with a vorpal blade, magical abilities, and some exquisite victorian costumes, this Alice offers you an escapist dive into a rabbit hole, far away from reality.
I had blast this last week replaying some old saves, accompanied by Masque Milano's olfactive weaponry.
Smell me: Vial Flower 1
Broom absolute is a sturdy flower with a strong smell that has roots spreading all over the place in folklore songs and common lore: said to tame wild horses, calm down rabid dogs, stop witches, was a part of gypsy wedding ceremonies and bears various medicinal uses. It smells like a summer's day in imaginary suspended farmland up in the clouds: hay and camomile flowers put to dry on clean, starched, white sheets. A little bit dirty, a little bit rock-n-roll country, with yeast and malty facets, makes me feel the urge to go to the hipster side of town and buy an artisanal dark malt beer.
"I also included Broome Absolute that is produced in Italy, as an homage to the origins of the brand", says Mackenzie. Broome Absolute is an extremely complex gourmand ingredient that has notes of honey, chocolate, cereal, pistachio… it is very rich and textured and provided a lot of body to the cake accord."
Smell me: Vial Flower 2 Orris Concrete
A fetishized note, holding a special place in every perfumista's heart, the orris concrete smells expensive, minimalistic, earthy, rooty, carroty, and has the kind of fulness and richness that – once you get hooked – you physically CRAVE and can't imagine living without. Just like an olfactive victorian corset, perfectly molded to your *body, making you straighten your back for that picture – perfect royal posture.
PR release: "Orris Concrete is a very special note in perfumery, which comes from the rhizome of the iris flower and must spend several years underground, and then age for several more years before being extracted. It is one of the most expensive and precious notes in our palette and brings an incredible sophistication and sheen to a composition. To us, orris represents luxury in a discreet, understated, but extremely palpable way."
Smell me: MAD
"Mad as a hatter" – a colloquial English phrase, used in conversation to lightheartedly suggest that a person is suffering from insanity. The phrase is believed to have originated from a Manchester area, where men worked predominantly in the hattery business, and used mercury in the process of making hats, exposure to which, over time, caused symptoms similar to madness.
This is the vial that I have emptied first, moaned and growled over, and for which I am preparing to picket the offices of Masque Milano, wearing a "MAD for it" sign, crying like the orphans in Oliver Twist and waving up my empty vial, chin trembling: "Please, kind sirs, can you make some more?"
I love tea, I love Earl Grey, I love the deep bitter rich life-awakening aroma that only a high-quality tea can bring your nostrils. This is so close to that exact feeling is ridiculous! (have you crushed over a perfume so hard, that it borderline ANNOYS you? (trying here to find the proper word for a tea aficionado's version of the "cute-aggression" syndrome)
Equilibrium is achieved: royal-reserve-quality black tea, citrusy bergamot, finely milled black pepper, dry leafy sage for a fully immersive dive into the perfect mad hatter's teacup:
Tom Petty, take it over:
Smell me: MAGIC
This smells like the most scrumptious, delicious tea-party desserts: carrot cake glazed in a decadent thick caramel, open jars filled to the brim with bright orange apricot jam, ginger nutty biscuits, frothed sweet condensed milk.
Masque Milano: "In creating the steamed milk accord, we wanted to achieve something very warm, inviting, creamy and nostalgic. The musky milky notes really ground the fragrance in the back and give it a delicious dessert-like quality. What Mackenzie did is quite incredible… we still wonder how she managed!"
Mackenzie: "It was important for us to smell raw materials together and do some gourmand tastings of interesting flavor combinations and unique desserts for inspiration. We had many interesting brainstorming sessions on how to tell the story of Lost Alice & her mad tea party, on how to distort proportions, disrupt familiar notes, and create something that would take the wearer on a journey through the looking glass."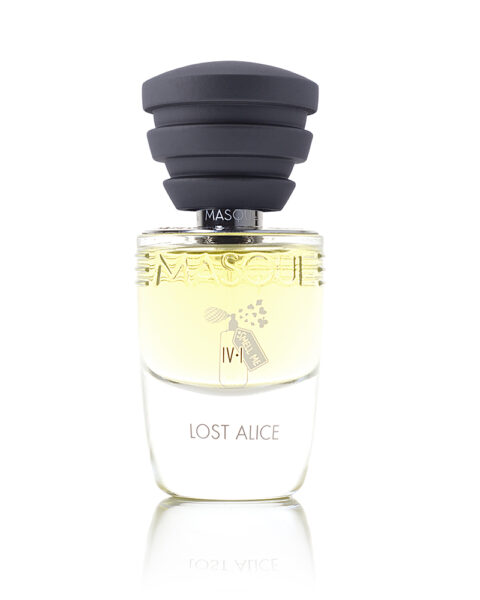 The last vial contained the final fragrance: LOST ALICE
In the game, one of the most interesting mechanics was to use Alice's shrinking potion to reduce her size, allowing her to walk through small spaces – but also to reveal invisible platforms and surfaces. The same principle is applied by Mackenzie in this fragrance – magnifying olfactive glasses, followed by microscopical dosings, turning and shifting perspectives, successively hiding or revealing new and surprising facets, all making you feel like you are in control of the narrative. Also, it's one of the first fragrances about which I can say that it has wonderful replay value (or should I say re-puff-ability 🙂 behaving differently on skin, vs. hair vs. clothes. I must confess I have drained out my sample trying to figure out what exact hair/skin proportion I have to spray in order to make the (ANNOYINGLY!) perfect tea accord shine through.
In the game, Alice is held back from enjoying the idyllic, peaceful scenery of Wonderland by an evil entity that rampages through it, leaving behind a force, named "ruin" that attempts to stop Alice and drag her back to reality. This feeling of flawless perfection being corrupted is the thing that creates tension and makes things interesting and artistic in Lost Alice – the more challenging bucolic note of broom makes the minimalist posh perfection of orris shine through. Same, without the bitterness of the black tea accord, and the prickly pepper sharp angles, the sweetness of the carrot cake would have curved into sweet over-indulgence.
Lost Alice is a game of proportions and perspective – an intelligent, intriguing gourmand experience that I have *saved* into my list of roleplay scents. (if you are into game-related perfume ramblings, read more here)
ACT IV – Scene I
Masque Milano Lost Alice A frabjous olfactory journey into too much black pepper, white roses (painted red), mad tea, and carrot cakes.
Interpreted by Mackenzie Reilly
"SMELL ME" (Head Notes)
Bergamot, Ambrette Seed LMR, Clary Sage France LMR,
Too Much Black Pepper*
"DRINK ME" (Heart Notes)
Carrot Heart LMR, Orris Concrete LMR, English Tea,
White Roses (Painted Red)
"EAT ME" (Bottom Notes)
Sandalwood India LMR, Broom Absolute Italy LMR,
Fleur de Lait (Steamed Milk Accord)
If you liked this, also read my review of Ray-flection
Also, check out Lauryn Beer review on Cafleurebon here
Disclaimer:
All the pictures used are concept art from Alice Madness returns, taken from https://www.creativeuncut.com/
Samples received from Masque Milano, thank you again for the invite!