Pure Poison by Christian Dior fragrance review was first published in Cafleurebon.
"The Snow Queen kissed little Kay again, and by this time he had forgotten little Gerda, his grandmother, and all at home. "Now you must have no more kisses," she said, "or I should kiss you to death."
The Snow Queen, Hans Christian Andersen
Pure Poison smells of frostbite, the kind of cold that covers any odor with intricate crystals of oblivion, wipes away any trace of memory, whites out any shred of colored splinters, punishes any detour from the white decor, flattening relentlessly, like a white heavy boulder rolling downhill, fading everything into the white untouched décor.
The flowers, white as they are, so cold that they stick your nostrils together, are immersed in liquid nitrogen and become pliable, transparent, aseptic, a mere spectrum of ice flowers, clean and sterile, until you feel that you have immersed your head in a dusty cloud of cleanliness and powdery white ice.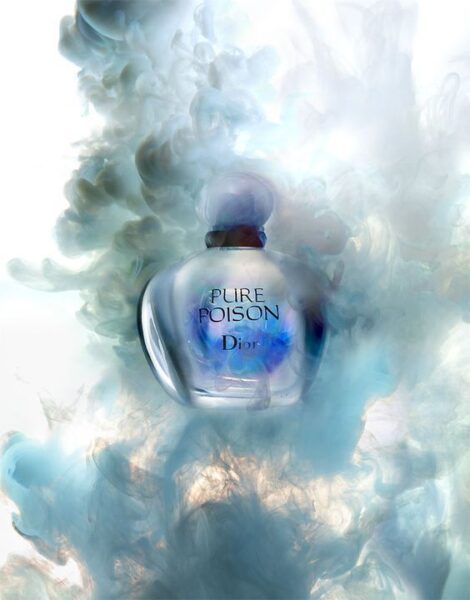 The beauty of the perfume, however, comes from a note of sandalwood, of a smooth light wood with pulsating sap, alive under the bark, gasping for air underneath the layer of white poisoned snow.
4. Pure Poison, Christian Dior, picture by Nicoleta
A light scratch, at the border of perception, increases in volume and intensity, with the power to transfigure the whole potion, taking out from its heart (or nostrils) the icy splinter of glass, and echoing like an insect fluttering in the amber in which it was captured, the fragrance awakens, and it awakens you.
"Then Gerda kissed his cheeks, and they became blooming; and she kissed his eyes, and they shone like her own; she kissed his hands and his feet, and then he became quite healthy and cheerful. The Snow Queen might come home now when she pleased, for there stood his certainty of freedom, in the word she wanted, written in shining letters of ice."
Pure Poison was released in 2004 and the noses behind it were Carlos Benaïm, Dominique Ropion, and Olivier Polge.
Notes: Orange blossom, Jasmine, Gardenia, Musk, Amber, Sandalwood, White Musk
If you like Pure Poison by Christian Dior, also try: Francesca dell'oro